Mandala Theatre-Nepal is a theatre organization based in Kathmandu, Nepal. It is a group of young, enthusiastic, dedicated and diverse theatre artist. After long training and individual involvement in this field, Mandala Theatre-Nepal was formed to work together.
Mandala Theatre-Nepal is a registered company that delivers theatre productions and related services. It is also registered as a non-profit organization to serve its respective vision and mission for social responsibilities.
The advancement of theatrical arts is our commitment; the production of innovative and creative works of art is our goal. We have devoted ourselves to exploring, popularizing and preserving the varieties of traditional and indigenous theatrical forms of our society, and we look ahead to work even more actively in the days ahead.
Our theatre is a strong voice for social justice, political awareness, and human rights. The driving spirit of Mandala is our people's freedom and happiness. We want to develop a participatory and inclusive space open to various genres of literature and inalienably linked to theatre.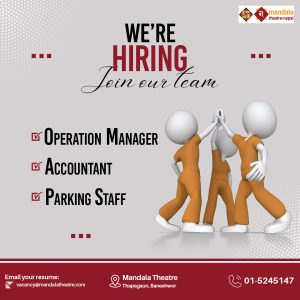 We are looking forward to hire different personnel's for our upcoming projects and activities. Please feel free to apply for the following positions:
| | | | |
| --- | --- | --- | --- |
| SN | No. OF POSITION | POSITION | CONTRACT PERIOD |
| 1 | 1 | Operation Manager | 2 years |
| 2 | 2 | Accounts Manager | 2 years |
| 3 | 1 | Support Staff (Parking) | 2 years |
All the position will start as soon as we get suitable candidates and the contract will be for 2 years. Please hand in a Cover Letter, CV, names and contact details of two referees, and if applicable reference letters from previous relevant job experiences via email: vacancy@mandalatheatre.com or as hard-copy at Mandala Theatre Nepal's office in Thapagaun. The application can be in English or Nepali. Deadline for application is the 24th May 2023. Please carefully read the attached TOR along with this notice before applying.
Please indicate in your application a preferred amount of financial compensation and note, that our organization will review your qualifications and decide upon the final rate being offered to you. We apologize for any potential inconvenience caused and encourage you to clearly state your academic and practical experience in the CV for the best financial outcome possible.