Flashback: Mandala Theatre Hall as an established theatre centre in Kathmandu
Since December 2012, Mandala Theatre Nepal had been running a theatre hall in Anamnagar, Kathmandu. Mandala Naatakghar, the theatre hall had been the most popular theatre centre in Kathmandu and served as a shared platform for all Nepali theatre artists, groups and theatre lovers with the variety of interest for ten years. The theatre hall has been used not only to stage plays but also to organize programs such as poetry recitations, documentary and film screenings,  book launches, press meets, seminars, and conferences, and more.
The still-structure building of theatre had two stories including box office, black box stage, audience parapet having capacity of 150 viewers and a technical control room on the first floor. The second floor included two separate green rooms (changing room) for ladies and gents, a bedroom and kitchen for technical staffs, a storeroom for costumes and props, a meeting room, and some office spaces. All the expenses of this theatre at large part were maintained by Mandala's founding core members. They had also donated their physical contribution towards the construction of the hall. Most of the construction tasks were undertaken by those 'core members', who were young and enthusiastic theatre artists by 2012 and renowned film and theatre artists of Nepal by now.  Mandala Naatakghar was dismantled in December 2021 as the lease agreement with the landlord was not renewed.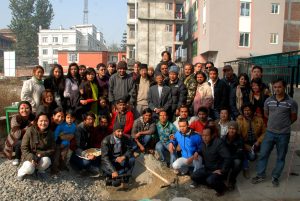 Mandala's Comprehensive Theatre Space- NEW MANDALA !
After the successful tenure of Mandala Naatakghar in Anamnagar, Mandala Theatre Nepal has built a new and comprehensive theatre space in Thapagaun, Kathmandu in 2021. Hiring a land space of about 2 ropanis in a lease-contract for ten years, the theatre company has built four buildings including two theatre halls in the space. The main building has three stories and the space of ground floor has open parking space together with restrooms, garden and waiting lounge. The first floor includes a coffee shop called Artists' Café, open gallery, books and merchandise shop, box office, 2 rooms for artist residency and a hallway/lobby. The rooftop part of the building is occupied by the restaurant where artists and audiences of Mandala can get refreshed.
Among the 2 theatre halls, the big auditorium has a capacity of accommodating 170 audiences with luxury seating arrangements. Building three includes a small auditorium which is a flexible studio in the concept of Blackbox theatre and can accommodate 60 audiences at once.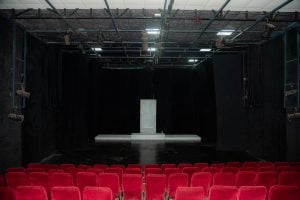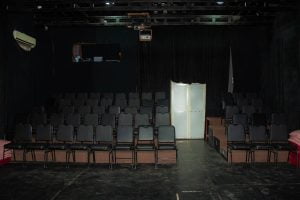 The same building has a workshop space, storeroom, and some office space in its second floor. Both the auditorium has basic technical facilities such as light and sound system, control rooms, changing rooms, ACs etc. The fourth building in the space is the already-existing house. It is the residential block and has three stories which has 5 hostel rooms, 3 bigger rooms for office, one kitchen, 3 bathrooms, open terraces, and roof top space. The building has been used as artist residency and office of Mandala Theatre-Nepal.
We offer our space in rental service for relevant programs and events.
Click here to access rental service announcement post of our space.